Landscape & Hardscape Services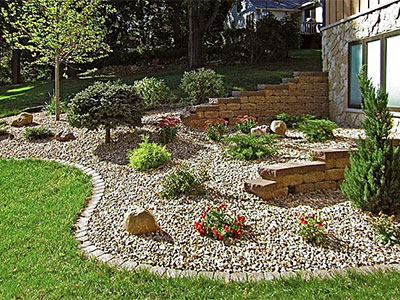 Your landscaping is one of the very first things noticed from the curb. Its aesthetic, planning and condition have an impact on the overall appeal of your property. When it comes to landscape design and planning, its best to work with experienced and proven professionals like us that have worked on similar projects in the past.

At Moyer's Inc., our commitment is to offer our clients with outstanding landscaping services to clients. We are a full-service, local, family-owned landscaping company with over 34 years of experience. We serve clients in and around Stoughton, WI. With a skilled and creative team on board, there is no landscaping job that is too vast or complex for us to handle. When you hire us for all your residential landscaping needs, you are assured of the perfect balance of quality and affordability. The range of services we offer include:


Landscape Design
When you are getting a new landscape installed, one of the most critical aspects of the entire project is the design phase. We offer high-quality design solutions to our clients and use our creativity and skill to design superb landscapes for our clients. Our team always focuses on factors such as practicality, durability, longevity, as well as ease of maintenance. We understand that our clients will want certain types of features in the landscape. It is why we always customize our services so that you are 100% satisfied with the 3D design solutions that we offer. We use this latest design technology so clients can have a digital view of how the final installations would look. Read More About Landscape Design >>


Custom Installation
Installing any outdoor features is not just about using various masonry elements and materials and building some structures. This job requires a significant amount of planning, and the installation work must be handled according to industry standards. The hardscaping elements on the property provide support to various other features, which is why we focus on custom installation. Our team of experts is handpicked for their skills and experience, and we always try to offer our clients top-notch solutions. No matter the scale of the job, we work systematically and professionally and offer you the kind of customized installations that you expect. This approach ensures you get value for money when you hire us. Read More About Custom Installation >>


Snow Removal
Snow removal is a crucial task that needs to be carried out at specific intervals during the winter months. Our company offers the best and most reliable snow removal solutions to residential and commercial clients. We understand that both properties will be quite different in terms of layout and spread. We have the capacity, tools, equipment, and vehicles to tackle these jobs reliably and promptly. You can opt for our snow removal contracts, and we will make sure that your property is clear of snow right through the season. You can rest assured that we will customize solutions so that you get the kind of services you need within your budget. Read More About Snow Removal >>

When you hire us for any landscaping job, you can be sure that you will get value for money. Our experts are here to help with all stages of your landscaping projects, big or small. We tailor solutions and never compromise on quality. The objective is to ensure that our clients get value for money and are 100% satisfied with our services.

If you need any landscaping design or installation done, please call Moyer's Inc. at this number - (608) 873-9141 and discuss your requirements with our experts. They will guide you and help with make better-informed decisions. You can also send us your queries and project details through this Contact Us form, and one of our team members will contact you shortly to discuss your requirements.